Canada's population growth remains one of the key drivers of housing demand and a trend to watch over the coming years. In 2022 the growth was 2.7%, which is over 1,000,000 people and amounted to the fastest population growth amongst all advanced global economies. This is more than twice the average Canadian historical rate and also more than twice the official immigration target of 430,000.
The significant departure from the immigration target is linked to the unprecedented rise in non-permanent residents. Non-permanent residents include groups such as international students, temporary workers and refugees. A staggering 600,000 immigrants fell under this umbrella in 2022, surpassing any previous peak since at least 1973 by more than three times.
To put this in perspective, based on an average household size of 2.5 people, accommodating 600,000 individuals would require 240,000 housing units. A typical new high-rise condominium provides about 700 units, so 340 new condo projects would need to be built. When you factor in the infrastructure required, this is like building a second city of Hamilton!
What's astonishing is that the total immigration numbers in 2023 will exceed those in 2022. Current estimates forecast a total of 1.5M immigrants to arrive in 2023 and we are on track to hit this number. The official immigration targets are an admission of 465,000 permanent residents in 2023, 480,000 permanent residents in 2024 and 500,000 permanent residents in 2025. The rest as you have learned previously, will be made up of non-permanent residents, a group that has no planning or caps in place.
There are also plenty of well-capitalized newcomers coming to Canada. According to a report by a leading international residence and citizenship advisory firm called Henley & Partners, Canada is number 6 in the world in rank at attracting the highest net in-flow of High Net Worth Individuals (HNWI's). Toronto is 12th in the world for cities out of 97 at attracting wealth. These migration figures focus solely on HNWI who have truly moved – namely those who stay in their new country for more than 6 months in a year.
In 2022, the conflict in Ukraine played a significant role in increasing the number of non-permanent residents in Canada. To address the situation, Canada introduced the CUAET program, which allowed all Ukrainians to apply for Temporary Resident status and seek opportunities for study or work in Canada. The impact of this program was substantial, as nearly one million Ukrainians applied for it. Among these applicants, 644,000 were granted approval, and 147,000 have already arrived in Canada. However, due to delays in application processing and the fact that only a portion of the applicants have arrived so far, there remains a considerable potential for further arrivals. This population growth momentum is expected to continue, with more Ukrainians anticipated to arrive in Canada under the CUAET program in 2023.
Rental Market
A quick glance at the rental market serves as the most telling indication that Canada is currently facing a housing shortage and a crisis. According to rentals.ca, Canada's average rent hit a new record high in June of 2023, reaching $2,042. This is evident in major markets such as Vancouver and Toronto where rents are up between 9% and 18% year over year! Rents are showing no signs of immediate cooling and are continuing to trend upwards on a month over month basis.
Rapid rent price growth is not just limited to the largest provinces such as Ontario and BC, Alberta saw the fastest year-over-year increase in rent prices in June.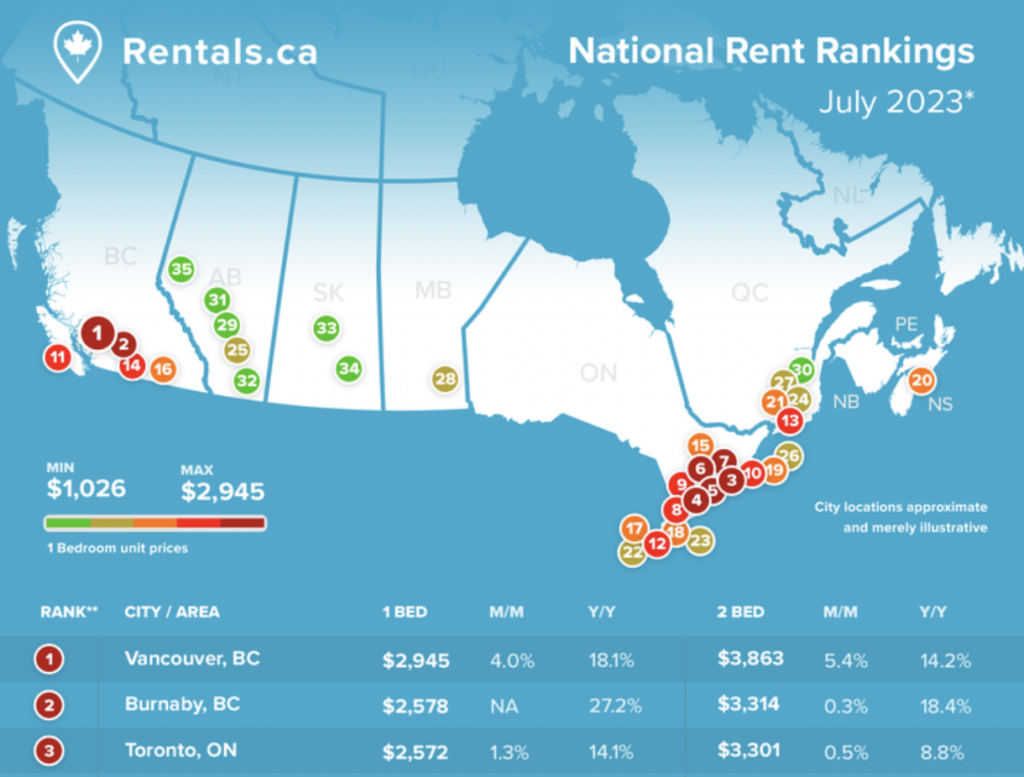 Supply Shortage
Desjardins estimates that housing starts need to increase by almost 50% nationally, relative to their forecasted baseline of approximately 210K, immediately, and stay at the elevated level through 2024 in order to meet housing demand. In reality, so far in 2023 the Canadian housing market witnessed a sharp decline in housing starts, leaving industry experts and stakeholders concerned about the potential implications. This notable downturn in new construction projects has raised questions about the underlying factors contributing to the slowdown. While specific reasons may vary across regions, some key elements attributed to this decline include tightening lending regulations, rising construction costs, labor shortages, and uncertainty in the economic landscape.
New pre-construction condo sales specifically have seen the slowest first half of the year in sales since 2013. This is going to present a serious challenge 3-4 years from now when the supply that is sorely needed is simply not there.
Conclusion
It is clear to see that Canada is on the path of an unparalleled influx of permanent and non-permanent residents over the coming years. The task of accommodating such a significant population growth is undeniably challenging and some are starting to wonder if Canada is biting off more than it can chew. Despite short-term economic challenges like elevated interest rates and economic cycles, the insights & data shared in this blog solidify our optimistic stance and supreme confidence in Canadian housing as an intelligent and enduring long-term investment.